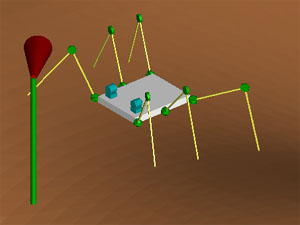 The Introduction

The Spider Explorer simulation program was written as a Computer Graphics Project by Artyom Chebotaryov under supervision of Dr. Gershon Elber.

The Goal

The goal of the project is to simulate the movement of 2N-legged model on the random surface from one point (the source) to another (the target).
Each leg consists of two parts: "hip" (with two freedom degrees) and "shin" (with one freedom degree).

The simulation includes the following features & tasks:



Providing a possibility to load & move any 2N-legged model given in predefined format (see Description of the structure of the 2N-legged models).


Providing two types of the leg movements: criss-cross and parallel.


Calculating the direction of each Spider step according to the current position of the Spider and the position of target point.


Calculating the tilt of the spider's body reflecting the ground surface (optional).


Calculating the movement of each leg according to the Spider's step movement. Each leg movement consists of three rotations of the leg parts ("hip" and "shin") according to freedom degrees.



Implementation

The Spider Explorer simulation program was totally written in IRIT 3D modelling environment.



The Site Map

This site contains the following sections (see in top menu):



Screenshots & Animations - several screen shots of simulated scenes of different 2N-legged models from different points of view and several GIF animations of simulated movements.


Downloads - Spider Explorer IRIT sources, Simulated Animation IRIT data files, 2N-legged Models IRIT sources, 2N-legged Models IRIT data files.


Documentation - User manual for creating new simulations, description of the structure of the 2N-legged models used in simulation, mathematical description of leg movements, general overview of simulation process and the brief description of sources, variables & functions used in simulation program.






Future plans

Here is a list of future plans for Spider Explorer:

Adding more target points and finding a best path for visiting them.
Adding stones of different sizes to the ground surface.
Improvement of the algorithm for finding the trajectory to the target (i.e. checking out the pathless hills and pits).
Adding a robotic arm with four or five degrees of freedom to examine the target object.